Dive n' Chill Cruise for 4 Days visiting Phi Phi, Krabi and Racha Islands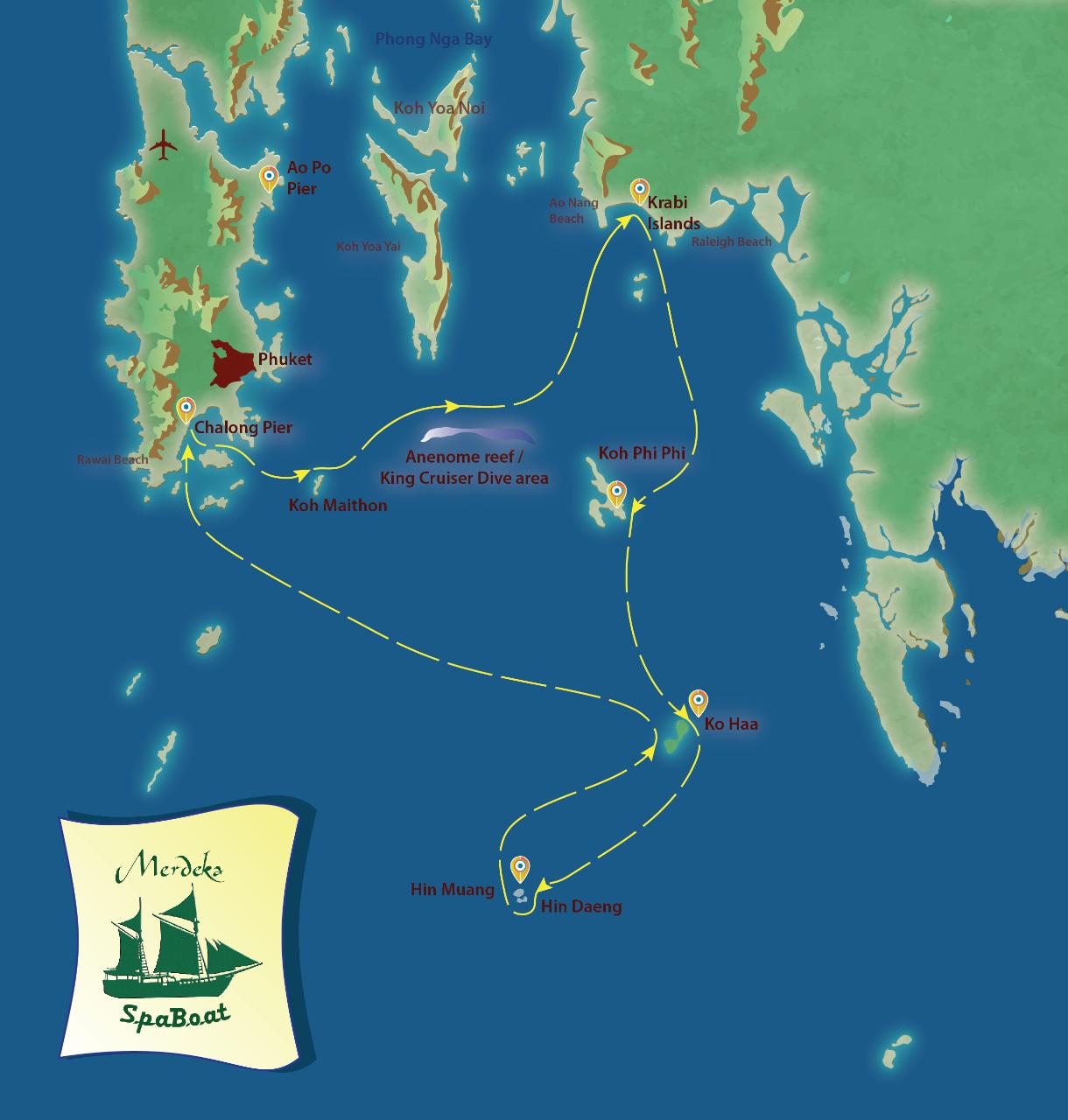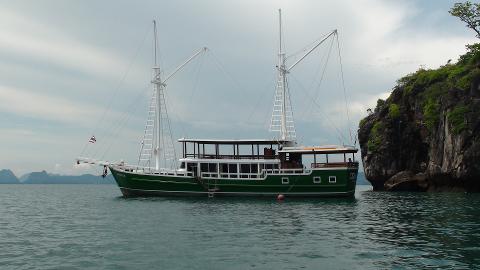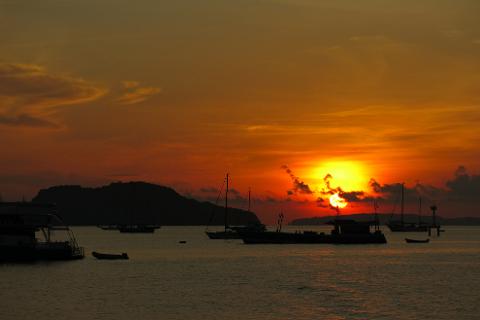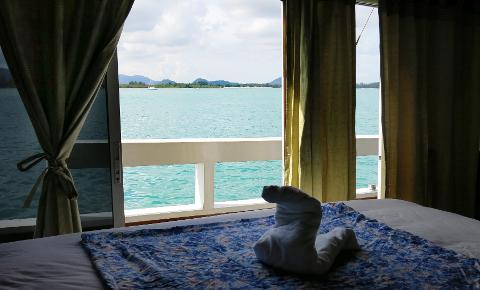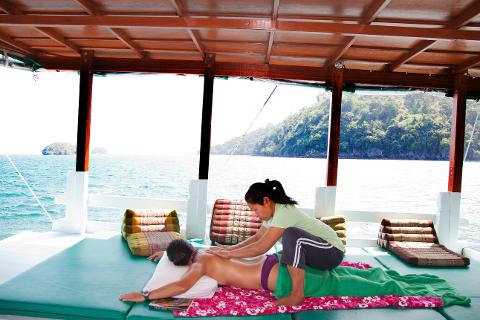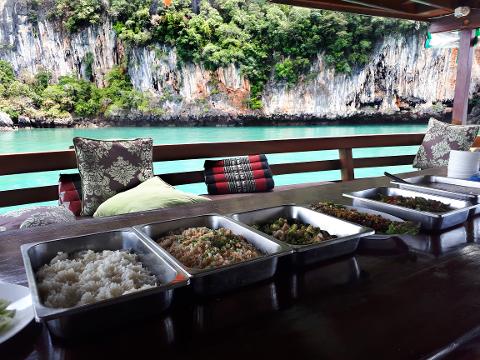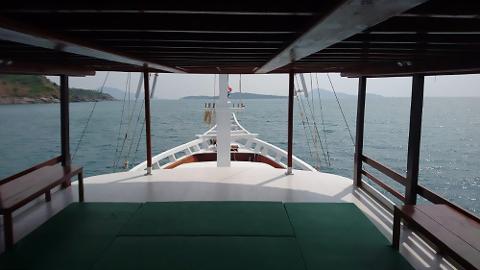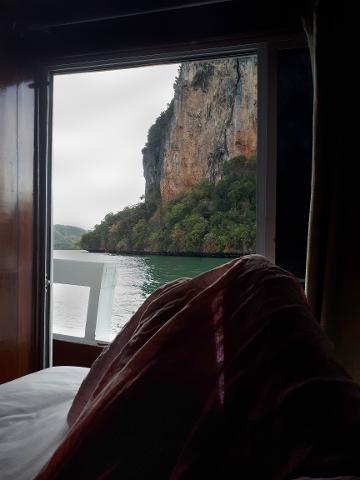 Duration: 4 Days (approx.)
Location: Phuket, Phuket
Product code: SDM32B
Dive n' Chill Cruise for 4 Days visiting Phi Phi, Krabi and Racha Islands
Join us for an exclusive Semi-Private Dive and Chill cruise off Phuket from Monday to Friday on Merdeka 3 - a 100-foot Indonesian Phinisi Yacht. A 4 Day / 4 Night Semi Private cruise visiting Phi Phi, Krabi and Racha Islands starting on Monday night at 18:30 and ending by 16:00 on Friday afternoon.
Do a sightseeing cruise with your non-diving family and get a couple of dives in a day. The ideal mix of diving and chilling out. This is NOT a 4-dives a day - Dive, Dive, Dive trip! Divers - please select the Dive Add-on when booking the trip.​
The cruise includes full board and lodge, three meals a day, towels, bed linen, snacks and beverages including free Beer / Wine / Cocktails and free massage.
Itinerary
Monday
18:30 - Arrive from your hotel or airport
19:00 - On board and leave for Koh Mai Thon - Dinner served on the way!
Tuesday
07:30 - First dive at Koh Mai Thon with snorkeling available for non-divers
08:30 - Breakfast and start moving to Dive sites at Phi Phi
10:30 - Second Dive at King Cruiser or Anemone Reef
11:30 - Up anchor and head to Phi Phi with lunch on the way
15:00 - Phi Phi sightseeing and exploring in Monkey beach or other bays
18:00 - Sunset and dinner in Maya Bay or similar (depending on the season)·
19:30 - Cruise to Phi Phi Don and ashore in Tonsai Bay to sample the nightlife in Phi Phi
Late - Return to the boat when you are ready – the crew will pick you up
Wednesday·
07:30 - First Dive before breakfast at Koh Bida
08:30 - Breakfast and relax, taking in the local scenery – have a massage or snorkel·
10:00 - Head south to Koh Ha about an hour from Phi Phi
11:30 - Second dive at Koh Ha with snorkeling for the more energetic non-divers·
13:00 - Lunch and explore and chill in Koh Ha
15:00 - Second Dive in Koh Ha – dives range from beginner to advanced
17:30 - Watch the sunset and take in a cocktail or two·
19:00 - Dinner and relax into the evening
Thursday·
05:00 - Our captain will get the boat going for an early start to Hin Daeng·
07:30 - First Dive at Hin Daeng with stunning red coral and big fish·
08:30 - Breakfast and chill – wait for the second dive
11:00 - Second Dive at Hin Maeng – intermediate and advanced divers·
12:30 - Lunch and chill to dive again or head to Koh Racha (weather dependent)·
14:30 - Head west to Koh Racha Noi – take in a massage or just chill out.·
18:30 - Sunset drinks and BBQ dinner whilst we cruise to Koh Racha Noi
Friday·
07:30 - First Dive at Koh Racha Noi in the morning·
08:30 - Breakfast and relax – take the Kayaks for a spin or have a massage·
10:30 - Second Dive at Koh Racha Noi – avoiding the crowds·
12:00 - Lunch and a slow cruise up to Koh Racha Yai·
14:00 - Head back to Phuket after lunch in time for a mid-afternoon drop in Chalong.
The itinerary is dependent on the weather. We will inform you if there are any changes due to inclement weather.
The cruise does not include the 600 Baht Diver per Day and 400 Baht per Day non-Diver National Park Fee that is paid directly to the Park Ranger at Koh Phi Phi Islands, Krabi and Koh Ha. Fees are dependent on timings, but please be prepared to pay if asked by the Captain.